Updating your browser will give you an optimal website experience. Learn more about our supported browsers.
The TCDRS office will be closed on Monday, May 29 in observance of Memorial Day.
TCDRS Annual Conference
Registration is now open for the TCDRS Annual Conference on July 20–21, 2023!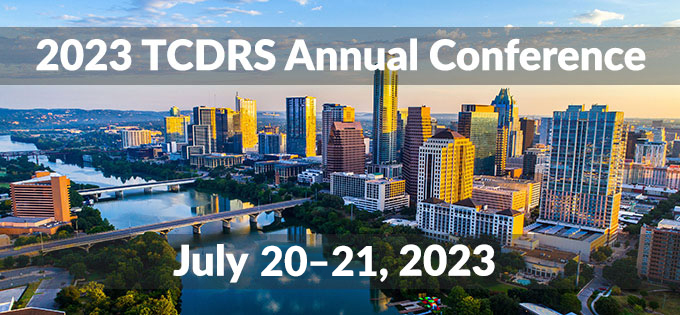 Registration for the 2023 TCDRS Annual Conference is now open! This year's conference takes place on July 20-21 at the AT&T Hotel and Conference Center in Austin.
Whether you make decisions for your county or district, or work directly with employees — or both — this is the perfect conference for you.
We have a great lineup of speakers that will give you fresh and fun perspectives on some of the most important topics for you as a TCDRS employer. You may also be able to receive continuing education credits for attending the conference.
All conference sessions take place at the AT&T Hotel and Conference Center. This year, we've reserved a block of rooms at the conference center for $145 per night. You'll be able to book one of these rooms once you complete your conference registration.
Register now and get $50 off your conference fee!
Video Library
Rather watch than read? Check out our
informational videos.
Explore Now
Related Content
Get more information on why TCDRS is a model plan when it comes to retirement.