Updating your browser will give you an optimal website experience. Learn more about our supported browsers.
TCDRS Annual Conference
Join us at the TCDRS Annual Conference on July 21–22, 2022! Registration is now open.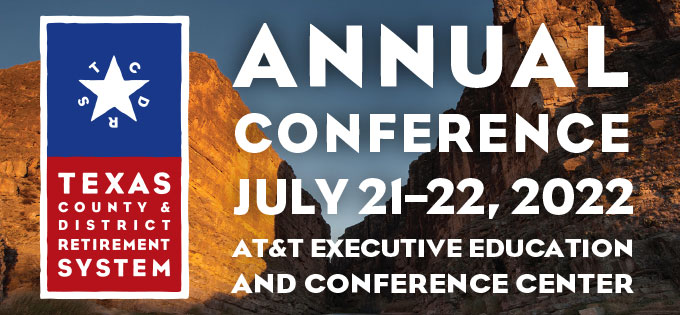 The 2022 TCDRS Annual Conference is a great way to learn about TCDRS and the latest trends in workforce and benefits management.
We are so excited to see you all in person! The 2022 Annual Conference will take place at the AT&T Executive Education and Conference Center in Austin, Texas.
This year's conference will be a two-day event:
Thursday, July 21: 9 a.m. to 5 p.m.

Friday, July 22: 9 a.m. to 3 p.m.
This event is perfect for county judges, commissioners, treasurers, auditors, chief appraisers, general managers, board members, plan administrators and anyone else who makes decisions about your retirement plan. You may also be able to receive continuing education credits for attending.
Register before June 30 and save $50 off your registration fee!
We look forward to seeing you there!
Video Library
Rather watch than read? Check out our
informational videos.
Explore Now
Related Content
Get more information on why TCDRS is a model plan when it comes to retirement.