Updating your browser will give you an optimal website experience. Learn more about our supported browsers.
Annual Statements are now available online. Members can access them when they sign into their online accounts.
For more information about Annual Statements and our most frequently asked questions, please visit our webpage.
Benefits on Her Radar
TCDRS member Halley Challis started her career with the Brazos County Emergency Communications District (BC911) in 2007, when she was 20 years old. As her life changed and her career evolved, her perspective on finances did, too.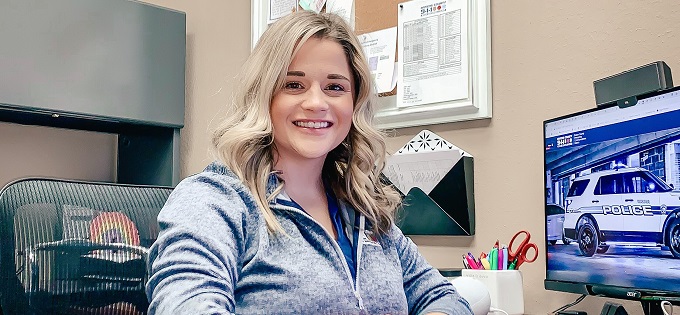 By Rebecca L. Bennett


"When I was hired at 20 years old, benefits weren't high on my radar," Halley says. "I didn't understand the significance of it then."
Halley started working with BC911 as a 9-1-1 emergency dispatcher.
During her time with the district, she went back to school and earned her bachelor's degree in Education in Math and Science for grade levels 4-8. Halley discovered she enjoys teaching adults more than children and she wanted to continue her career with BC911.
Last summer, Halley stepped into a higher administrative role of Training Coordinator, while continuing to run the county's social media profiles to connect with and educate the public.
If she could say anything to her younger self, Halley wishes she could tell herself that she was in control of her personal finances, and that her financial goals could always be bigger.
"Now that I am older and my financial stability is a priority for my family, I am extremely grateful that I have had an account for the last 13 years and for the impact it will have on my future," Halley says.
Given the stress and trauma 9-1-1 dispatchers face on the job, they face a high rate of burnout. So why has Halley stayed with it?

"We have some really tough calls, but we also have some really beautiful and happy calls, like helping a baby being born," Halley says. "Knowing that we are able to swiftly get skilled first responders to callers and comfort them in the meantime really feeds our passion for emergency services."
The other reason? Her TCDRS retirement benefit.
"The passion I have for emergency services really pulls me to the job but knowing I have had an account with TCDRS since I was 20 helps me have the confidence in my future chapter of retirement," Halley says.
Video Library
Rather watch than read? Check out our
informational videos.
Explore Now
Related Content
Get more information on why TCDRS is a model plan when it comes to retirement.