Updating your browser will give you an optimal website experience. Learn more about our supported browsers.
Retired sheriff goes from serving up justice to serving up brisket
Billy Ray Nelson retired from law enforcement a decade ago, but he's showing no signs of slowing down. Today, the former Polk County Sheriff is living his dream of running a bustling barbeque spot in his hometown of Livingston, Texas, and putting smiles on the faces of his patrons. The food is so good, it's made Texas Monthly's list of top 50 barbeque joints.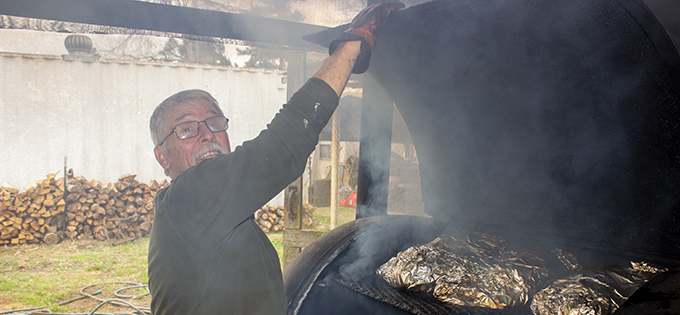 Story and photo by Rachael Seeley Flores
Billy Ray says he developed a serious love for barbeque during his roughly 30-year career in law enforcement, which included a few years serving papers and working as a patrolman in Harris County Precinct 3, and more than a decade as sheriff of Polk County. "I said, 'You know, someday I want to have me a place where I can just cook barbeque," he says.
After retiring from TCDRS, his dream came true. With the support of his family, he opened up Hitch-N-Post Barbeque in 2009 with two freestanding buildings off FM 350 South in Livingston, about an hour north of Houston.
"You've got to watch what you wish for, because this is work," says Billy Ray says. "But I love it."
Old-fashioned goodness
"I just always loved serving people," Billy Ray says. This motivated him during his time in law enforcement, too. "[People] come here and they want a product, and I give them the best product I can give them," he says.
The menu is packed with hearty dishes made from scratch in the on-site kitchen.
The best-selling item is a generous, chopped brisket sandwich served on a white bun with pickles and onions. Other barbeque staples include deep fried onion rings, sliced brisket, ribs, and pastries and pies made by Billy Ray's wife, Margie "Lou" Nelson, who retired from a 20-plus-year teaching career to focus on cooking.
Lou's Louisiana roots explain the menu's Cajun flair. Hitch-N-Post serves Cajun boudin balls (a deep-fried mix of pork sausages made with rice and seasoning), alongside Cajun-fried corn, Cajun boudin sausage links and crawfish on Saturdays, during crawfish season.
Billy Ray takes pride in smoking his ribs and briskets to perfection. Meats are smoked at 190 degrees for up to 10 hours to ensure maximum flavor and tenderness.
Everything is 100 percent cooked on wood, in a wood-fired, indirect heat smoker fueled by a combination of Red Oak, White Oak, Hickory, Pecan and Pin Oak wood. "I think that gives it a way better flavor, and that's what I'm after," Billy Ray says.
Each wood brings unique characteristics to the taste. He starts by getting the fire going with the Red Oak and Pecan. "If it gets too hot … you've got to bring it back down a little bit," he says. "Then, I put my White Oak on it and it kind of keeps it going."
The barbeque spot is busiest on weekends, when families visiting nearby Lake Livingston stop by with big orders. Business is evolving in step with the changing times. The pandemic has required workers and customers to wear masks and Billy Ray says big catering orders have dried up for weddings and other events.
In February, the deep freeze caused a few pipes to burst, and forced the restaurant to close for repairs for a week.
Loving what you do
Billy Ray enjoys serving the community and making people happy. "Everybody was not always happy when you had to put someone in jail," he says. "But when they come and eat barbeque, they are really happy. I have a bunch of people that I've put in jail who just come as my customers now."
Retirement isn't slowing him down one bit. "I'm just not going to quit," Billy Ray says. "This is just like a vacation every day."
Video Library
Rather watch than read? Check out our
informational videos.
Explore Now
Related Content
Get more information on why TCDRS is a model plan when it comes to retirement.