Updating your browser will give you an optimal website experience. Learn more about our supported browsers.
Parker County Courtrooms are Going to the Dogs
Meet Parker County's victim assistance dog, East, and her handler, Lisa Mehrhoff.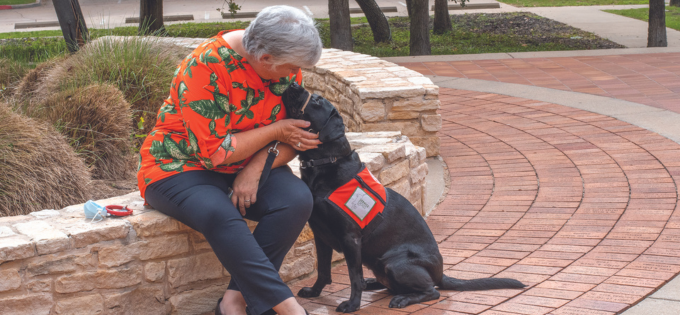 Story and photos by Kelly Lindner
Those who testify in Parker County won't be alone when they sit in the witness stand. Most likely, a friendly Labrador Retriever named East will lie right at their feet. Any time they get nervous, they can reach down and stroke her black fur, and regain their confidence or calm.
"East is support — literally," says Lisa Mehrhoff, a Professional Victim Assistance Coordinator for Parker County and East's handler. "It doesn't matter who she comes into con­tact with. She has a very calming presence."
Clicking with East
East was born in 2016 in Oregon, where she was trained to be a service dog for the blind. But she wasn't a good fit for the vocation, so she was sent to Service Dogs Inc., in Dripping Springs, Texas, to train for other types of services.
Lisa began working for Parker County in 2007. Ten years later, she decided a court accompaniment/victim assistance animal (who comforts victims during tes­timonies and interviews), could really help the county, but discovered that they cost $30,000 to $40,000 each. Then she learned about Service Dogs Inc., (who sometimes helps workers get dogs through the use of grants), and applied for a dog through the program.
After her application was approved (and the Parker County commissioners court voted unanimously to receive the animal), Lisa completed a weeklong training to become a court accompaniment dog handler.
Before Lisa could take East home, she had to prove that they were a good fit, so she went to Drippings Springs to meet her. "She interviewed me," Lisa laughs. "The trainer said she'd never seen such a quick bonding."
Work Life
After East completed training, she came to Parker County in December 2018. She was the first court accompaniment/ victim assistance animal placed in North Texas, and she is currently the only one in Parker County.
"She can calm an entire courtroom down," Lisa says. "I can't tell you how many attorneys come in after a bad trial and sit on the floor and just hug on her."
East's presence is also helpful dur­ing Lisa's one-on-one interviews. "People I see are often very angry or afraid," Lisa says. "But the minute they lay eyes on East, the pressure is gone."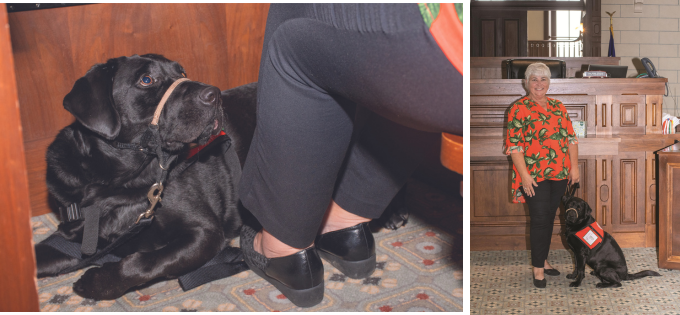 "East has been so good for Parker County, and the county has been so supportive — especially my boss, Parker County Attorney John Forrest," Lisa continues. "If he had not encouraged this, East would have never come to us."
East and Lisa do daily drills to keep her skills sharp. "She has to do really long down-stays," Lisa says. "Her record is almost three hours in a courtroom setting."
Though East lives with Lisa in her home and comes to work with her on weekdays, she is owned by Service Dogs Inc., and con­tracted to Parker County, which means the county takes care of her expenses. But, since the North Texas Veterinary Hospital in Weatherford has volunteered to provide all of East's care for free and Royal Canin Dog Food donates food to East, there aren't many.
"I've felt support from the whole community," Lisa says. "Not every­body knows my name, but they all know East's name. If I walk any­where in town, they say, 'Is that you? The court dog?'"
Home Life
Since Lisa started working with East, she says they haven't spent a day apart. East comes along on fam­ily vacations, and when they're not working, East has full run of the 32-acre cattle farm that's been in Lisa's family for three generations. Lisa and her husband of 39 years, Rick, just built a new house on the property three years ago, where Lisa loves to sit on the back porch, drink coffee and watch rabbits, deer or her grandchildren run around.
"It's my happy place," Lisa says. "My goal was to build a place that my three children and my eight grandkids would want to be, and they love it."
Lisa and East have no plans to retire yet. (When East retires, her ownership will transfer to Lisa.) "I'm just barely over 60," Lisa says. "And East and I still have a lot to do. I figure she's good until 11 or 12. She's got a lot left in her."
Lisa also enjoys her work. "I love all of what I do," she says. "I look for­ward to coming to work, even though I know some days are going to be hard."
But when she is ready, she knows her TCDRS benefit will be waiting. "It's a blessing you cannot imagine," Lisa says. "We're able to kick back and know that this little bit of extra is gonna be here."
Video Library
Rather watch than read? Check out our
informational videos.
Explore Now
Related Content
Get more information on why TCDRS is a model plan when it comes to retirement.