Updating your browser will give you an optimal website experience. Learn more about our supported browsers.
Cooking up a second career in retirement
Retired Harris County Deputy Sheriff Rayford Busch spent decades perfecting his barbecuing process. So when he retired, he was ready to jump into his second career.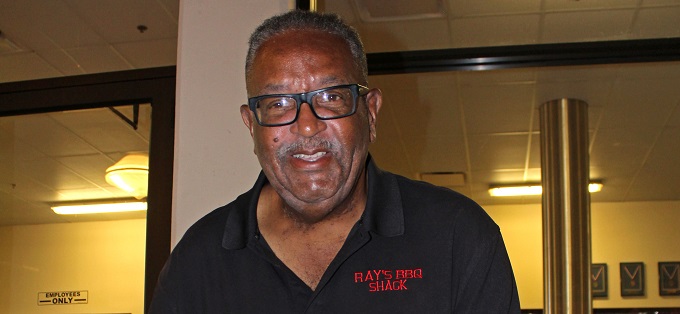 Story and photos by Gerald McLeod
In Houston, the barbecue is a little different than what you might find in other parts of the state. The smoked meats and most of the side dishes have a little something extra.
"That's the cayenne pepper and Scotch bonnet [pepper]," says Rayford Busch, co-owner of Ray's BBQ Shack in Houston. "They give it just a little kick."
The retired Harris County deputy sheriff has spent decades perfecting his barbecuing process. He learned to cook as a child from his mother and has always enjoyed it, he says.
"I started barbecuing in my backyard for my family and friends," Rayford says. "They all said it was good enough to sell, so I thought I'd give it a try."
He bought his first large scale pit from a fellow employee at the sheriff's office. "There was a notice on the bulletin board at work asking $500 for a portable pit," Rayford says. "I think I gave him $300 for it."
Going pro
Rayford was ready to take his barbecuing to the next level. "My friend River Falls, another deputy, taught me everything I know about barbecuing," Rayford says. "I call the time I spent with him the school of hard knocks of River Falls."
Although his friend had strong opinions about barbecuing, Rayford went his own way at many junctures. "My sauce is all mine," he says. "River's barbecue sauce was completely different."
River, who passed away a few years ago, is remembered with a photo of the two friends hanging prominently in Ray's restaurant. Having worked security at several area nightclubs, Rayford knew a few of the owners. His first foray into commercial barbecuing was in the parking lot of King Leo's Club.
"My friend James Guilbeau and I sold all the brisket and sausage we had in an hour and a half," Rayford says with a laugh. "We couldn't believe it."
In the days before the food truck phenomenon, Rayford sold barbecue at car washes and on street corners — wherever he could find space and a ready clientele.
"I did that for nine years on weekends until my mother took ill. I stopped barbecuing for three years while I was helping take care of her," he says.
Maxine to the rescue
"I owe the success of the restaurant to Maxine," Rayford says. "I couldn't have done it without her." Maxine Davis and Rayford grew up together just a few blocks from the restaurant. A bank vice-president, she was thinking of retiring about the time that Rayford was thinking of retiring from Harris County.
"A year before we retired, Maxine and I decided to give the restaurant a try. We wanted to make sure it worked before we left our jobs," Rayford says. "That's what got me back into barbecuing."
On Jan. 12, 2011, Ray's BBQ Shack opened at 4529 Old Spanish Trail, a few miles east of the NRG Stadium where the Houston Texans football team plays. A year later Rayford retired from the sheriff's office with 29 years of service.
"I didn't take even a week off after retiring. I just went straight into barbecuing," Rayford laughs.
The third owner of the restaurant is Maxine's son, Herb Taylor. Herb joined the team after a career in the NFL. His Green Bay Packers jersey hangs on the wall in the restaurant. He is also co-pitmaster, helping Rayford maintain the consistency of their smoked meats.
Slow and low
Rayford says his restaurant's success is all about the food. A steady line of hungry Houstonians kept the restaurant's four stations busy taking orders on a Friday afternoon, but the line moved quickly.
"[The restaurant] is a hit because we have good food," Rayford says. "Without it, they'd go someplace else."
It was Maxine's idea to add Cajun food and catfish to the menu. Daniel Vaughn, barbecue editor for Texas Monthly, wrote that the restaurant had "some of the best fried catfish you'll ever eat and some great barbecue to go along with it."
The secret to good barbecue, Rayford says, is to cook it low and slow. He likes to cook 10- to 12-pound briskets for at least 12 hours.
"You have to start with a good cut of meat," he says. "You should be able to bend [an uncooked] brisket so that the ends almost touch, which means it doesn't have too much fat."
Retirement fun
Owning a restaurant is hard work, but Rayford says he is enjoying it.
"My TCDRS retirement helped a lot," he says. "It's wonderful having that security."
He says the retirement process was seamless as he transitioned from working for the sheriff's office into his second career. "[TCDRS] put everything down on paper. I didn't have to wonder about anything. I'm very grateful for all they did," he says.