Updating your browser will give you an optimal website experience. Learn more about our supported browsers.
Catching the Big One (Retirement)
Saving and planning for the future may be difficult for some, but for TCDRS members Jason and Lori Bass, both of whom work for Montgomery County, getting retirement ready is something they enjoy doing together as a couple.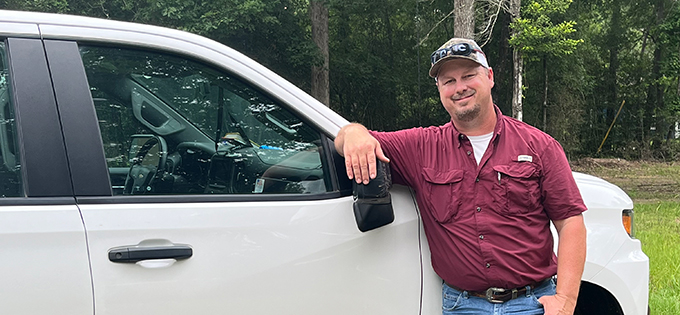 Jason has spent 29 years in the road and bridge department. He started out doing asphalt work and has since become a housing development inspector.
"We have always been very minimalist people," Jason says. "We don't get our needs and our wants mixed up. We have a philosophy: 'Live like no one else now, so you can live like no one else later.'"
At age 49, Jason contends that mindful spending over the years has paid off. In addition to his and Lori's TCDRS retirement accounts,
Recently, the couple has been thinking more about what their retirement will look like.
"The thing I'd tell people, in addition to watching their spending, is to go to a TCDRS counseling session," Jason says. "They answered a lot of things that helped me make some better [benefit] decisions, such as working an extra five years to get that compounding interest."
With their savings and the county match, Jason says he plans to retire in about five years and spend more time in his and Lori's cabin on the river. He's thinking of taking his love for bow fishing and starting a guide service. Of course, he is already planning for that, too.



Jason and Lori Bass are keeping their retirement dreams top of mind as they navigate their careers. Photos courtesy of Jason Bass

"I've got me a pretty nice boat, but I'd need to get a bigger one, so I'm saving to pay for it in cash," Jason says. "That's just how I roll."
Video Library
Rather watch than read? Check out our
informational videos.
Explore Now
Related Content
Get more information on why TCDRS is a model plan when it comes to retirement.