Updating your browser will give you an optimal website experience. Learn more about our supported browsers.
Quilting and community service
Retiree Dianne McCrary's creations are beautiful as well as functional. Each quilt that she creates is a community service project to bring warmth into someone's life.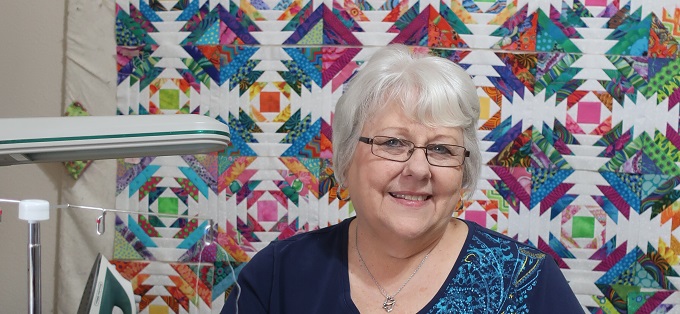 Story and photo by Gerald McLeod
Some artists create with paint and others use stone or metal to fashion their works of art. TCDRS retiree Dianne McCrary uses bits of cloth meticulously cut into intricate shapes and sewn together to make creations that are beautiful as well as functional. Each quilt that she creates is a community service project to bring warmth into someone's life.
Quilts are an art form that have decorated homes for centuries. Each handmade blanket is as unique as its creator. Many become cherished heirlooms passed down through generations of families.
"A quilt is a warm thing and special keepsake," Dianne says. "I remember quilts my grandmother made and feeling special because she took the time to make it just for me."
The art of sewing has been passed down through Dianne's family. "Mother made her first quilt at 14 years old," Dianne says. "I still have it."
Dianne started quilting in 1995 for her first grandchild. Then there were more quilts as more grandchildren came along. Eventually, all four grandchildren learned to sew, too. Dianne's middle granddaughter became something of a celebrity when at age 8 she made a quilt about the Underground Railroad for a school project.
Busy as a bee
After Dianne retired in 2012 from the Gulf Coast Water Authority, she joined a quilting bee at Galveston County's Wayne Johnson Community Center in La Marque. Despite being displaced when Hurricane Harvey damaged the building, the quilting bee continues to meet in borrowed space.
"A bee is a lot of fun," Dianne says. "It's all girl talk, but I enjoy spending time with my buddies and doing something productive for a good cause."
Called the "Loose Threads Bee", her group of six women meet on Fridays.
"Everything we make, we give away," Dianne says. "We make the quilts because we enjoy it. Seeing a person's face light up when they get a quilt is such a reward. I really enjoy that part of it."
Dianne's group produces more than 150 items during the year that are destined for Galveston County charities. The time spent on each project varies, but the ladies can complete a large quilt in about three weeks.
One of Dianne's favorite community service projects is making baby quilts for the new mothers at the Women's Center at Mainland Medical Center. Once the mothers go through their prenatal checkups, parenting classes and postnatal checkups, they get a quilt.
The group also makes pillowcases with drawstrings for Child Protective Services. Children use them instead of black trash bags to carry their belongings.
"A few years ago, I had knee surgery, so I made a bag that attached to my walker," Dianne says. "Now we make them for retirement homes. The residents really appreciate the walker bags. It's like having another hand."
Every Christmas, the group donates 35 quilts to a home for young adults with special needs. For the 12 residents who don't have families, the quilting bee also gives wrapped presents.
"My husband, Roger, plays Santa Claus for the children. He has to wear a fake stomach, but he's got the personality for it," Dianne says.
Saying thank you
Two or three times a year, the group makes patriotic-themed quilts that are presented to Vietnam
veterans.
"Those guys are so proud of the quilts," Dianne says. "For many, it was the first time that anyone has thanked them for their service. It makes me feel so proud doing that."
The most recent presentation was to a retired Army officer who lost a brother in Vietnam, a son in Iraq and had his home flooded by Hurricane Harvey.
"Our little bee stays busy," Dianne says with a chuckle. "We're always sewing."
One stitch at a time
In addition to her work with the quilting bee, Dianne has plenty of personal projects. "I'm always good to quilt for a good cause," she says with a laugh. She also makes a quilt to be raffled off at her family's annual reunion.
The proceeds from ticket sales pay for the next year's dinner. "And then some lucky person gets to go home with a beautiful quilt," she says. On top of it all, Dianne usually has a five-year quilting project going that challenges her to try new techniques. Her last one involved thousands of one-inch and half-inch squares. For Dianne, quilting is a pastime and passion, but it is the community service aspect that really lights up her life.
"Roger and I are always busy volunteering for something," she says. "It's mostly him, and I just tag along to help where I can."
After 18 years of working at the water treatment plant, Dianne is enjoying retirement and living it to fullest. "I am so thankful for that job," she says, "But retirement is fabulous. I wouldn't have been able to retire without TCDRS. Because of them, I have time to do my hobbies and spend time with my grandchildren and husband."