Updating your browser will give you an optimal website experience. Learn more about our supported browsers.
A better day at the beach
Joe Vega of Cameron County Parks and Recreation oversees the renovation and restoration of Isla Blanca Park. When complete, the island on the southern tip of South Padre Island will make for a better day at the beach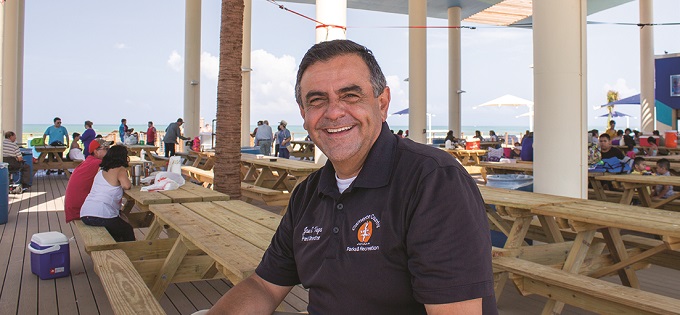 Story and photos by Gerald McLeod
With construction planned for completion this summer, Isla Blanca Park on the southern tip of South Padre Island will be a renewed tropical paradise. With a mile of beach along the Gulf of Mexico, 600 RV and camping sites, and a full-service marina, the park attracts those looking for an island getaway.
"When it's done, it will be the crown jewel of not just Cameron County parks, but of all coastal parks along the Gulf of Mexico," says Joe E. Vega, Director of the Cameron County Parks and Recreation Department.
Isla Blanca's renovations began in February 2017 with the removal and rebuilding of the sand dunes.
"The dunes are our first line of defense when storms hit," Joe says.
A large part of the $30-million-construction project was the replacement of two pavilions, originally built in 1986 and 1992.
Two new beachfront pavilions are connected by a 2,000-foot boardwalk lined with umbrellas and lights. Each open-air pavilion has restrooms, dune walkovers, rinse stations, shaded picnic areas, concessions and barbecue grills.
On the Laguna Madre side of the park, a new multi-purpose building and a 4,000-seat amphitheater were added, along with palm trees and landscaping to increase the park's tropical ambiance.
Additional parking and easier access to the beach and fishing jetty will make Isla Blanca Park a safer and more enjoyable experience for the more than one million annual visitors, Joe says.
Native son
Joe grew up in Port Isabel (across Laguna Madre from South Padre Island), where he served as mayor and city commissioner before joining Cameron County, where he's worked for more than 17 years.
"I enjoyed growing up in Port Isabel," he says. "Isla Blanca Park was like my second home."
Joe and his wife, Lucy, and their two children enjoy visiting Cameron County parks as often as they can, whether it's a day at the beach or a fishing trip.
"Our favorite state park is Garner State Park," Joe says. "The kids love tubing down the Frio [River]. The only thing I don't like about that park is trying to get the kids back in the car."
For Joe, maintaining the county's parks is about improving the quality of life for residents and enhancing the experience for visitors. The county provides facilities from ballfields to fishing piers and hiking trails to boat ramps.
"We provide an array of outdoor recreational opportunities for the public to get outdoors and enjoy,"
Joe says.
One project close to Joe's heart opened in April 2018 with the completion of the county's first all-inclusive playground at La Esperanza Park in Brownsville. With the support of the commissioners court and several organizations, the parks department replaced aging playground equipment with ADA-compliant equipment.
"It's a place where special needs kids and able kids can play and interact together," Joe says. "That's part of improving the quality of life for all our residents of all abilities."
Joe is also involved in the parks department's initiatives to bring social services to colonias, or unincorporated neighborhoods, through two service centers. Working with nonprofit agencies, the centers provide an array of services from adult continuing education classes to free dental services. In the summer, they offer children recreational and educational programs that include breakfast and lunch.
Back to the island
With its white sand beaches and blue water, South Padre Island is one of the major vacation destinations in Texas. Besides Isla Blanca Park, Cameron County maintains two other beach parks north of town, plus three beach access points.
The newest of these parks is E.K. Atwood Park at Beach Access No. 5. Opened in 2017, it contains five pavilions with dune walkovers, restrooms, rinse stations and food truck parking.
"It's a beautiful park with great amenities," Joe says. "It provides a view from beach to bay."
The 17 Cameron County parks have a lot to offer residents as well as visitors to the Rio Grande Valley. Adolph Thomae Jr. County Park in the Laguna Atascosa National Wildlife Refuge is popular with fishermen and birders. The Jaime J. Zapata Memorial Boat Ramp on the Brownsville Ship Channel attracts birds, fishermen and kayakers. For a complete list of Cameron County's parks and their facilities, visit their website.
Joe says that every Cameron County park will soon have a butterfly garden. Local gardening clubs and an elementary school have helped the department install plants beneficial to migrating Monarch butterflies and local species of butterflies, which help pollinate native plants and provide natural pest control.
"Not only do we work on improving recreational opportunities, we also work on protecting the environment," Joe says.
The county is working on a shoreline restoration project on the Arroyo Colorado and is a partner on the Bahia Grande Restoration Project, one of the nation's largest wetland restoration projects.
"I love my job," Joe says. "We have a lot of exciting projects and a dedicated park staff. There are a lot of great things happening in Cameron County parks, and I hope people from all over Texas will come enjoy the new amenities we have to offer."