Updating your browser will give you an optimal website experience. Learn more about our supported browsers.
Putting the "Grand" in Grandparent
TCDRS retiree Jayne Ashcraft is raising her grandkids in retirement, and she couldn't be happier.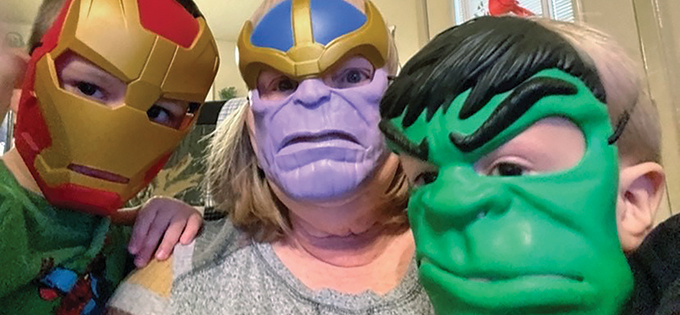 Story by John Martin
"Raising kids is in my blood," says TCDRS retiree Jayne Ashcraft, who has been spending her retirement caring for her grandchildren, great niece and great nephew. "I keep a five-year-old, a three-year-old, a four-year-old and a one-year-old," she says.
Jayne started working at the Denton County tax office when she was 18 years old and worked in that same office for 34 years.
While customer service can often mean interacting with frustrated customers, Jayne says she felt fulfilled helping people and made lifelong friends among her coworkers. "You're like a family," Jayne says. "Sometimes, you spend as much time with them as you do with your family."
Quality time spent with the people she loves is something that Jayne has always held to be important — especially after her husband was diagnosed with end-stage cancer. She retired early from the tax office to spend as much time with him as possible.
"I was happy to be home with my husband and fix him lunch," Jayne says. "Just to be able to spend that extra time with him and my family."
But often, retirement can sometimes mean having more time than you might know what to do with, especially when you've been working the same job for 30 years. "You can only clean so much, you can only wash so many clothes," Jayne says, adding that her husband had told her, "You gotta get out of the house, you gotta do something!"
To keep her mind moving and help keep up with medical expenses, Jayne ended up going back to work part-time at the Denton County Clerk's office for a time. However, after her husband passed away in 2016, there was a hole in Jayne's life — a hole that can only be experienced by losing someone you love, and that can only begin to be filled by continuing to love.
Jayne found what she needed when she retired for the second time to help take care of her newly-arrived grandson. Since then, she's kept herself busy and fulfilled by taking care of another grandbaby, as well as her great niece and nephew.

Blanket forts and superhero masks are common occurrences under Jayne's roof.


"I don't have them all the time, and I don't charge them anything," she says. "It's the hardest job I've ever had, but it's the best job I've ever had. You get paid in hugs and kisses."
To Jayne, the benefits come in the work itself. "To me, it's about love," she says. "You gotta have love."
Jayne is no stranger to raising children, as she's done it her whole life. She had her first child at age 20 and helped raise two older grandchildren, who are now 17 and 21 years old.
She's also been teaching kids at Sunday School for the past 22 years.
Jayne will tell you that her story is a simple one, but after a life full of hard work, the simple things are often the most important.
"Doing what I love — raising children — has made something as hard as losing my husband much easier," she says. "That's been there to fill that gap. I wouldn't trade it for the world. I love it, and it's wonderful."
Video Library
Rather watch than read? Check out our
informational videos.
Explore Now
Related Content
Get more information on why TCDRS is a model plan when it comes to retirement.