Updating your browser will give you an optimal website experience. Learn more about our supported browsers.
Work in Retirement? TCDRS Retirees Weigh In
We asked TCDRS retirees if they're working in retirement. Here's what they said.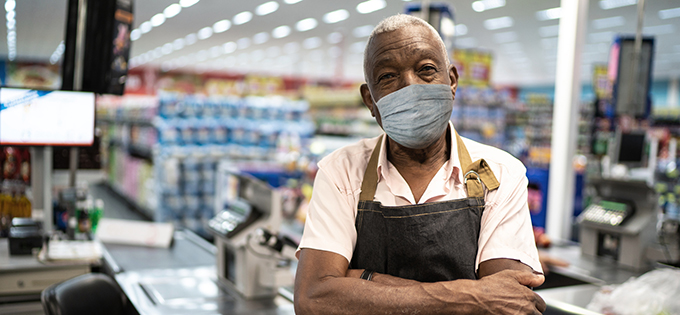 Story by Lindsay Livingston

"Are you working in retirement?" We posed this question to our audience on Facebook to gather boots-on-the-ground information about real retirees.
According to a 2019 report from the Bureau of Labor Statistics, of workers ages 65 or older, 40% had previously retired at some point, and roughly 10 million workers fit into this age bracket.
Returning to work doesn't necessarily mean heading back to the same old desk. There's a whole world of opportunity — whether it's trying a new industry, finally working for yourself or accepting a part-time role you couldn't afford to take before.
"I love summer seasonal work," said one adventurous TCDRS retiree who works as a part-time gift shop cashier at Mount Rushmore and Yellowstone National Park. She's not only seeing the sights, but also meeting people from all over the world. "I am off to Glacier National Park next summer. LIVING THE DREAM."
For others, post-retirement dreams can be accomplished more locally. One Facebook user says she's living in a small town, selling antiques. "I love it," she said. "It doesn't feel like work."
If you're working to live comfortably, you're not alone. One retiree explains their retirement is simply "not enough money to live on," while another says, "Two checks make life a lot easier."
Overall, our retirees told us that working in retirement provides stability, a sense of purpose and fulfillment, social opportunities and a financial boost; others said they love their professions or are taking care of their grandchildren.
"I now have the most rewarding job of my life," wrote one commenter, in reference to her grandkids. "I work hard for no money, but the benefits are out of this world. Hugs and kisses and playing with the little is the best!!"
What about those who don't return to work? For them, retirement means just that: retirement. One retiree says, "I've been retired for 16 months. Best job I ever had. Six Saturdays and one Sunday," while another happy commenter exclaims, "I'm doing nothing, and I don't start that until noon!"
To see more from your fellow retirees and join in on the discussion, follow us @TCDRS on Facebook!
Video Library
Rather watch than read? Check out our
informational videos.
Explore Now
Resources
Related Content
Get more information on why TCDRS is a model plan when it comes to retirement.