Updating your browser will give you an optimal website experience. Learn more about our supported browsers.
3 Resources to Help You Make Informed Plan Decisions
If you're making Plan Decisions, check out these three resources to keep you on the right track.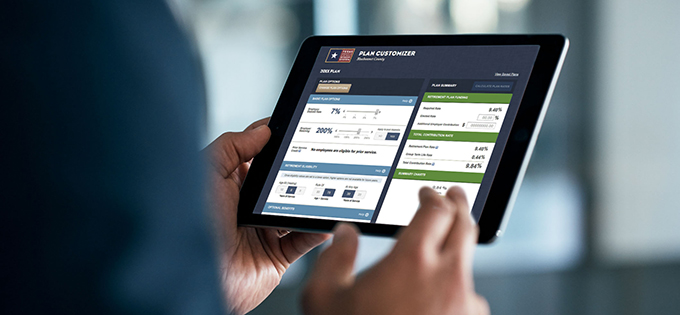 As a TCDRS employer, you have flexibility and local control over your plan of benefits. Every year, you can make plan changes to ensure your costs and benefits stay in balance. This annual decision process runs from May, when rates for the upcoming year and the Plan Customizer become available, until the deadline to submit plan changes in December.
Because keeping your plan in balance is so important, we offer a variety of resources to help you make these decisions. Here are three of them!
Your ESR is Your Go-To Resource
Each TCDRS employer has a designated Employer Services Representative. Whether you have questions about TCDRS in general or need help with submitting payroll or exploring plan decisions, reaching out to your representative is the easiest and fastest way to take care of business.
During the plan decision process, your Employer Services Representative can walk you through how to use the Plan Customizer, help you create funding strategies to meet your goals and conduct online and in-person presentations about your plan for your commissioners court or governing board.
Many Online Tools & Resources
You can also access detailed guides on how to use the Plan Customizer, the TCDRS Employer Portal and more:
For help using the Plan Customizer, check out our video and user guide. These walkthroughs show you how to model benefit scenarios, produce side-by-side comparisons with your current plan options, and ultimately, submit your changes.

On our Yearly Plan Review webpage, you will find many resources designed to help answer questions about the process.

Additionally, if you click "Filter by topic" and "Yearly Plan Review" in our website library, you will find helpful articles on COLAs, elected rates, lump-sum contributions, and more.
Make it Custom
If you have exhausted all of these resources and still feel like you don't have the information you or decision-makers need, ask your TCDRS Employer Services Representative about our custom resources. We can conduct special studies, reports and economic modeling upon request.
If you have any questions about the resources we offer to help you with your plan decisions, please reach out to your TCDRS Employer Services Representative at 800-651-3848 or employerservices@tcdrs.org.
Video Library
Rather watch than read? Check out our
informational videos.
Explore Now
Related Content
Get more information on why TCDRS is a model plan when it comes to retirement.