Updating your browser will give you an optimal website experience. Learn more about our supported browsers.
How to Select Your Beneficiary Online
The easiest way to select, review and update your TCDRS beneficiary (or beneficiaries) is through your online account at TCDRS.org. Here's how.
One of the most important aspects of saving for your financial future is making sure you keep your beneficiary information updated.
Your beneficiary is the person who would receive the money in your TCDRS account, or draw your TCDRS retirement benefit in your place, if you passed away.
Keeping this information updated ensures TCDRS will be able to distribute your funds according to your exact wishes without putting any extra burdens on grieving loved ones. You should review your beneficiary every year and after life-altering events, such as marriage, divorce or the birth or death of a loved one.
The easiest way to select, review and update your TCDRS beneficiary (or beneficiaries) is through your online account at TCDRS.org. Here's how:


1. Sign into your online account at TCDRS.org.
If you haven't registered for online account access yet, you can do so in only a few minutes. Get started here.


2. Once you're signed in, scroll down to the Beneficiary Summary box on your account homepage.
Here, you'll find the name and relationship type of the person we currently have on file as your primary beneficiary. If you have named more than one primary beneficiary, you will see up to five of them in this box.


3. Click "View details" in the upper right corner of the Beneficiary Summary box.
This will take you to a page where you can get a detailed look at all of the beneficiary information TCDRS has on file for your account, including primary and alternate beneficiaries for your TCDRS account and for your Group Term Life (GTL) benefits (if your employer participates in that program).


4. Set your primary beneficiaries.
If you haven't set a primary beneficiary yet, click "Add a primary beneficiary" to get started. If you already have a beneficiary on file, click "Edit" to see the information TCDRS has for them.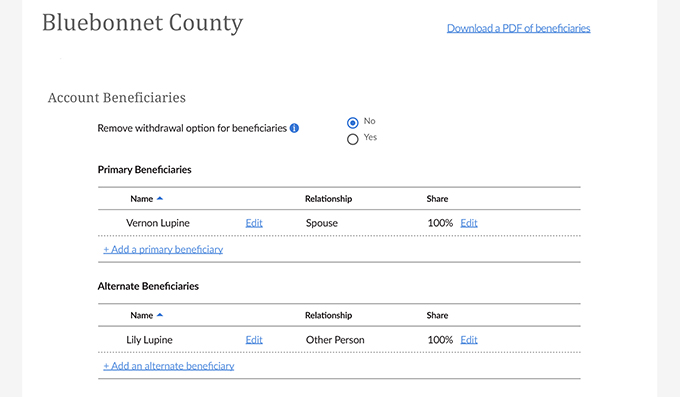 You'll need to be prepared to enter information such as their full name, birthdate and SSN. Once your primary beneficiary's information looks good, click "Next."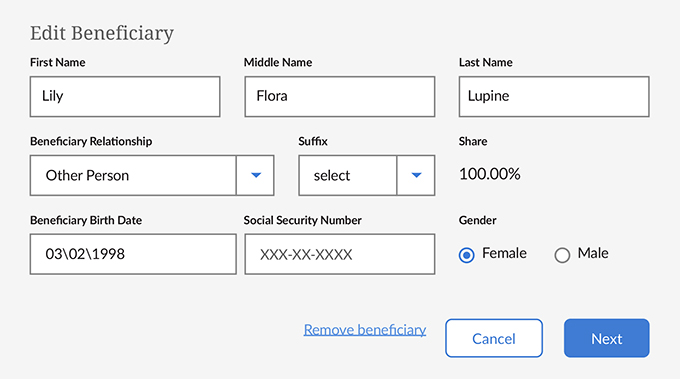 Now, you'll need to enter the percentage share of your benefit that you want your primary beneficiary/ies to receive. This tool is useful for members who want to split their benefit between multiple beneficiaries. You can set as many primary beneficiaries as you like. If you only want to designate one primary beneficiary, set their share at 100%.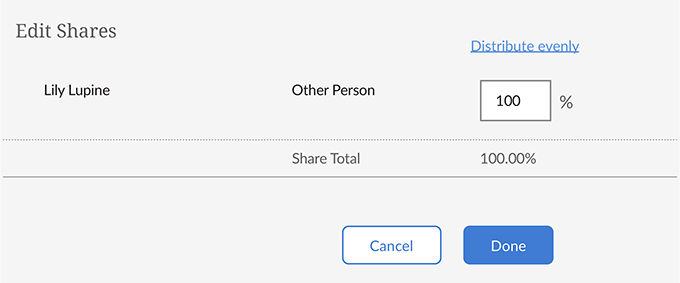 Be sure to click "Done" when you're finished.
Note: Clicking "Done" only saves your changes on the page. In order to officially submit your beneficiary designation to TCDRS, you must click the blue "Submit changes" button at the bottom of the page.


5. Next, set your alternate beneficiaries.
Your alternate beneficiary would receive your benefit only if all your primary beneficiaries had also passed away. You will follow the same process to update your alternate beneficiaries and you can set as many alternates as you like.


6. Don't forget your GTL beneficiaries.
If your employer participates in TCDRS' GTL program, be sure to set primary and alternate beneficiaries in that section, too. If you don't set a GTL beneficiary, TCDRS will use the same beneficiaries you have set for your retirement account.


7. Consider whether to remove your beneficiaries' ability to withdraw your funds as a lump-sum payment.
If you passed away with enough service time to qualify for the TCDRS Survivor Benefit (4 years), your beneficiary/ies would be eligible to claim your TCDRS benefit as a lifetime monthly benefit. Because withdrawing as a lump sum means forfeiting employer matching, some TCDRS members prefer to remove their beneficiaries' ability to make this choice, ensuring they can receive consistent payments for life.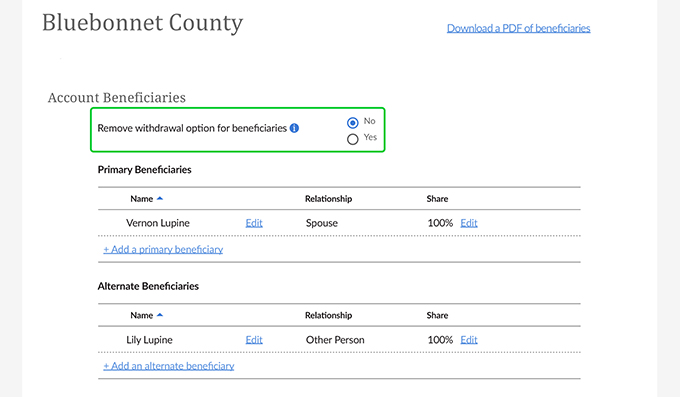 8. Once you are finished making selections, click the "Submit changes" button.
The "Submit changes" button is located at the bottom of the page. This is a very important step to ensure TCDRS receives your new beneficiary designation(s).



9. Save or print a copy for your records.
If you would like to save or print a copy of your beneficiary information for your own records, you can download a PDF by clicking the link in the upper right corner of the page.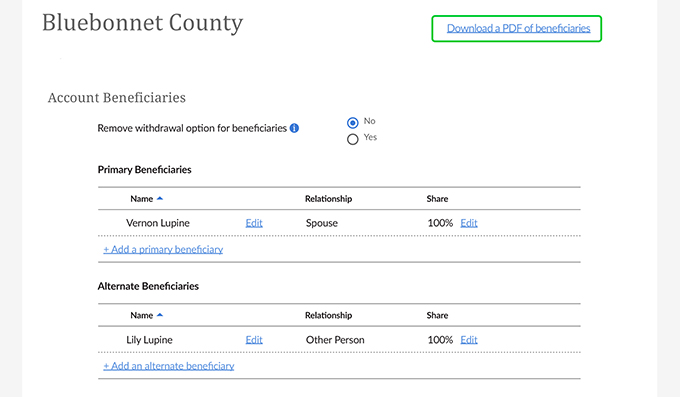 You can find more information about selecting TCDRS beneficiaries here.
If you have questions about creating an online TCDRS.org account or about selecting or updating your beneficiaries online, please call TCDRS Member Services at 800-823-7782.
Video Library
Rather watch than read? Check out our
informational videos.
Explore Now
Related Content
Get more information on why TCDRS is a model plan when it comes to retirement.