Updating your browser will give you an optimal website experience. Learn more about our supported browsers.
Naming a Beneficiary
Naming a beneficiary for your TCDRS account is one of the most important things you can do for your loved ones. It could save them from having to make difficult decisions, because it guarantees that TCDRS can distribute your money the way you wish.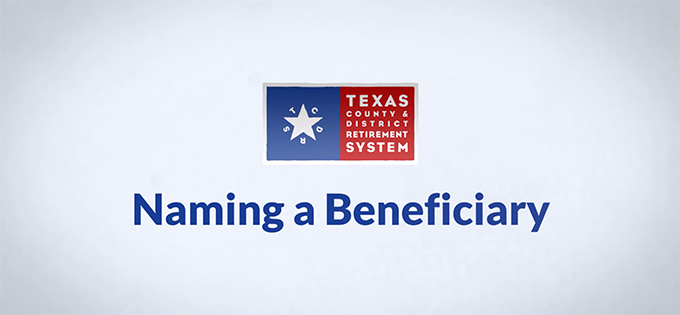 What Your Beneficiary Gets
If you pass away before you retire, TCDRS will pay your money — deposits plus interest — to your beneficiary. If you have four or more years of TCDRS service, your beneficiary has the option of receiving a lifetime monthly payment from your account. Called the Survivor Benefit, this payment includes employer matching.


What if I Don't Name a Beneficiary?
If you haven't designated a beneficiary, we'll pay your benefit to your spouse or to your estate (if you are not married).


How to Designate Your Beneficiaries
You may name as many beneficiaries as you wish. To update your beneficiaries, sign in online or call TCDRS Member Services at 800-823-7782. Your employer can also help you update your beneficiaries.

If you're eligible for the Survivor Benefit, you may remove the withdrawal option from your beneficiary's payment choices. By removing the withdrawal option, your beneficiary will only be able to select a payment option that provides a lifetime benefit. A lifetime benefit from TCDRS includes employer matching.


Types of Beneficiaries
There are two types of beneficiaries — primary and alternate:
Primary Beneficiaries: These are the people (or entities) who will receive your benefit. TCDRS will split your benefit equally among your primary beneficiaries, unless you specify how you'd like your benefit to be divided.

Alternate Beneficiaries: These people or entities receive a benefit only if all of your primary beneficiaries are deceased.


Things to Consider When You Choose
When you choose a beneficiary, you may want to ask yourself the following questions:
Is my spouse or anyone else dependent on me for income or financial support?
Do I want to provide for more than one person when I pass away?
Do I need to provide for a minor child?
Who you choose to receive your benefit can also mean you have to take a few extra steps to make sure your beneficiary is valid.


Additional Considerations
Spouses
Your husband or wife may have a right to the retirement benefit you earn while you're married. If you're married and wish to designate someone other than your spouse as your primary beneficiary, you may want to consider contacting an attorney to learn your options.
Divorce
If you get a divorce and your spouse is your beneficiary, they will lose the designation as your primary beneficiary. If you still want your ex-spouse to be your beneficiary, you'll need to edit their beneficiary information in your online account to reflect your ex's non-spouse status. Contact TCDRS for more information about how a divorce affects your benefit.
Minor Children
You can name a minor child as a beneficiary, but TCDRS cannot pay a benefit directly to that child until they turn 18. You may either designate a custodian or a trustee to ensure a minor child receives the benefit you wish. If you don't name a custodian or trustee, TCDRS will make benefit payments to the child's parent or legal guardian.
Estate
When you name your estate as your beneficiary, your Will determines who gets your estate (or parts of it). Before TCDRS can make payments to your estate, we'll need an Estate Tax Identification Number, as well as Letters Testamentary or Letters of Administration. (Estate Tax Identification Numbers are obtained by calling the Internal Revenue Service at 800-829-4933. Letters Testamentary or Letters of Administration are documents obtained from a court that appoints an executor or administrator for the estate.)
TCDRS will make a single payment of your account balance including employer matching (if you're eligible) to your estate. Choosing your estate may not be a good choice if you want to provide someone with a lifetime monthly benefit.
Trust
Before you name a trust as your beneficiary, set up a legal trust agreement. To name a trust as a beneficiary, please enter "Trustee of (name of trust)" as a primary or alternate beneficiary on your beneficiary designation.
Charitable Gift
You may name a nonprofit organization or charity as your beneficiary and TCDRS may make a single payment, including employer matching (if you're eligible) to that entity. Simply enter the name of the charity as either your primary or alternate beneficiary.
Changing Beneficiaries and Staying Up-to-Date
It's a good idea to review your beneficiaries every year or after a life-changing event, such as marriage, divorce, the birth of a child or a death in the family. Checking and updating your beneficiaries can help make sure that your benefit payment doesn't get delayed. It can also help make the process much easier for your loved ones.
You may change your beneficiary at any time by signing in online or by calling TCDRS Member Services at 800-823-7782. Your employer can also help you update your beneficiaries.
Video Library
Rather watch than read? Check out our
informational videos.
Explore Now
Related Content
Get more information on why TCDRS is a model plan when it comes to retirement.