Updating your browser will give you an optimal website experience. Learn more about our supported browsers.
What Members Can Do Online
There are more reasons than ever to register online at TCDRS.org.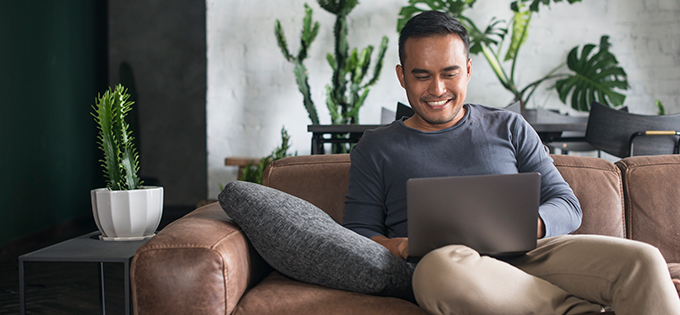 "Can I do this online?"

This is one of the most common things we hear from our members during benefit counseling sessions and phone calls — and we're proud that 95% of the time, the answer is, "Yes!"

A TCDRS.org account provides all the tools and resources you need to own your retirement future. Not only will the features within the TCDRS Member Portal help you watch your money grow, monitor your account security and estimate your possible future benefit, but they will also give you the ability to perform most account updates yourself in just a few clicks.

Having a TCDRS.org account also makes it so much easier and faster to apply for benefits using our online retirement application.

Here is a full list of features you can take advantage of by registering online at TCDRS.org.


Skip to a feature:
See All Your Information In One Place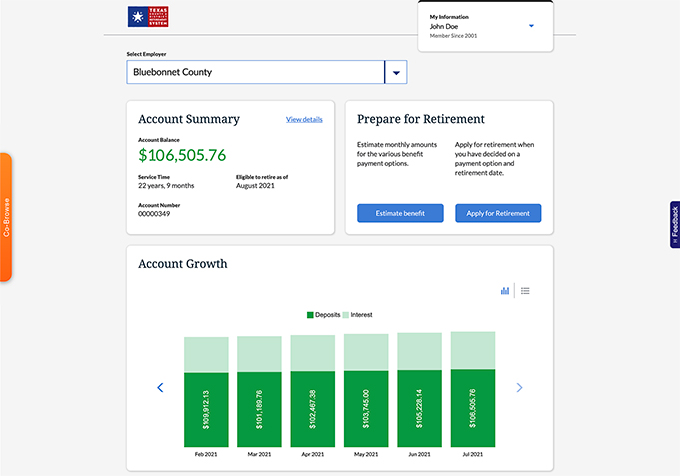 Signing into your TCDRS.org account brings you to your dashboard — your launch point for accessing all of the portal's tools and resources.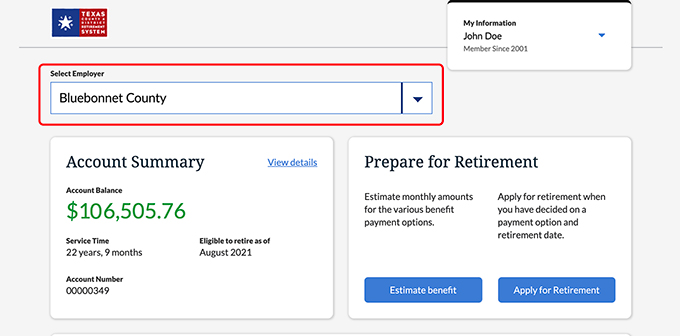 If you have more than one TCDRS account, you can easily switch between your dashboards for all of your accounts using the "Select Employer" dropdown at the top of the page.


Track Your Savings & Eligibility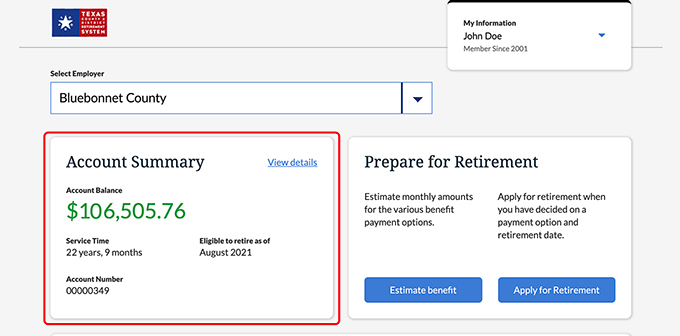 Near the top of the page, you will notice your "Account Summary" box. Here, you can quickly see how much money you have saved for retirement, how much TCDRS service time you have earned and the dates you will become vested and eligible to retire.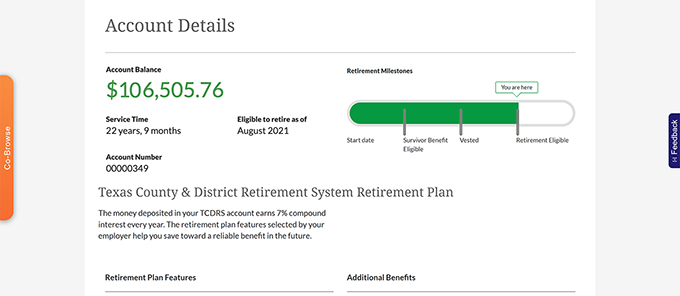 Your current account balance is displayed in large green letters to help you quickly see how much you have saved for the future. Clicking "View details" reveals more information about how your benefit works and how to meet your organization's retirement eligibility requirements.

Just underneath the "Account Summary" box on your dashboard, you will find the "Account Growth" chart.
Toggling between the graph and chart views can help you see how much money is flowing into your account from contributions made by you and your employer, and how much interest you are earning each month as your balance grows.
Update Your Personal Information & Preferences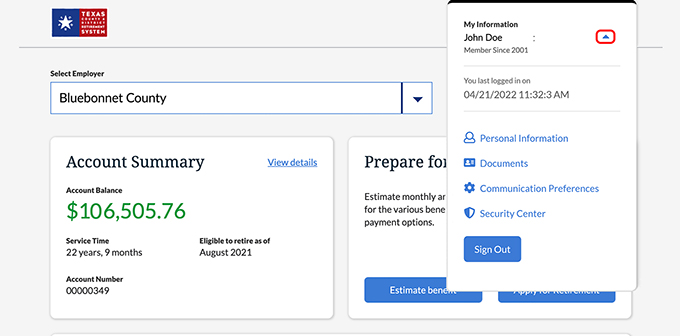 You can view and update important account information, such as your legal name, contact information or communications preferences, by clicking the blue arrow in the "My Information" box located in the top right corner of your dashboard.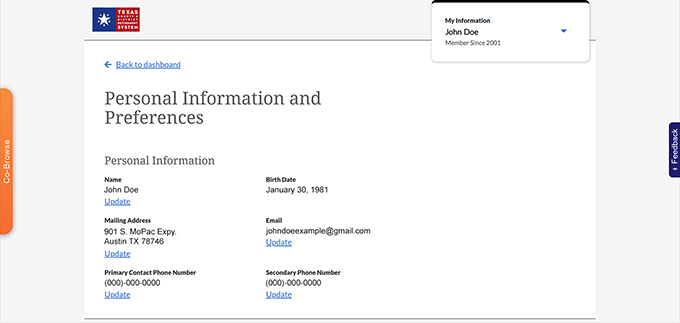 Clicking "Personal Information" brings you to an area where you can quickly update your mailing address, email address and primary and secondary contact phone numbers.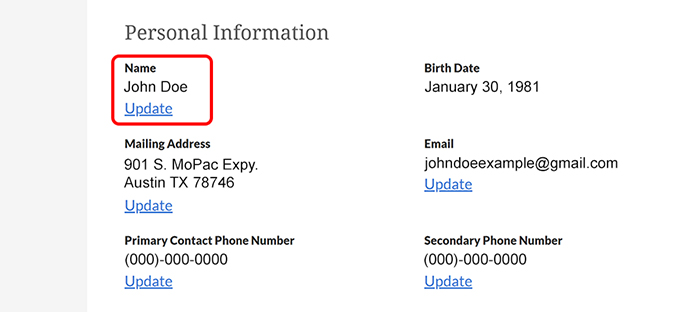 You can now request a legal name change online. Simply click the "Update" link under your name to get started. If your birthdate is incorrect, please call TCDRS Member Services at 800-823-7782.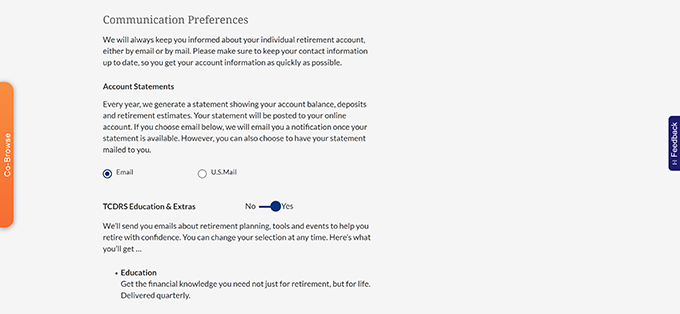 To set your communications preferences for account statements, newsletters and other notifications, select "Communications Preferences" from the "My Information" box. If you adjust your preferences, be sure to click the "Update Preferences" button at the bottom of the page to confirm your changes.
Designate Your Beneficiaries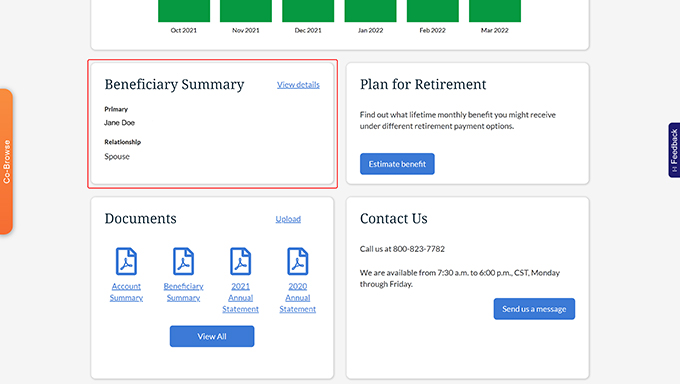 Setting a beneficiary for your TCDRS account is one of the most important things you can do for your loved ones. This ensures TCDRS can distribute your funds exactly how you wish if you were to pass away.

We recommend checking this information every year or any time you experience an important life event, such as divorce or a birth or death in the family.

You can quickly check your beneficiary information online by scrolling down to the "Beneficiary Summary" box on your account dashboard. There, you will see your current primary beneficiary's name and relationship to you. Clicking "View details" to reveal more information about your beneficiary designation(s) and tools for updating this information, if needed.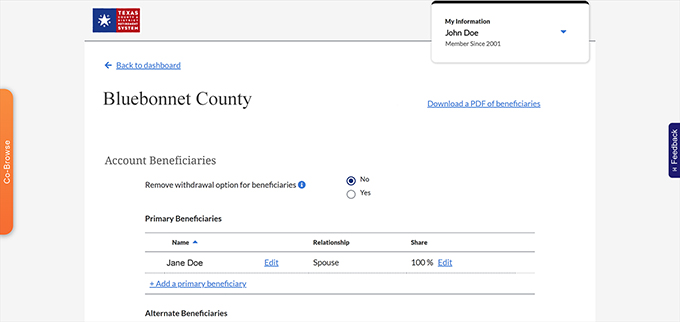 If you need to update your beneficiary information, you can follow along with our step-by-step guide.
Add Service Time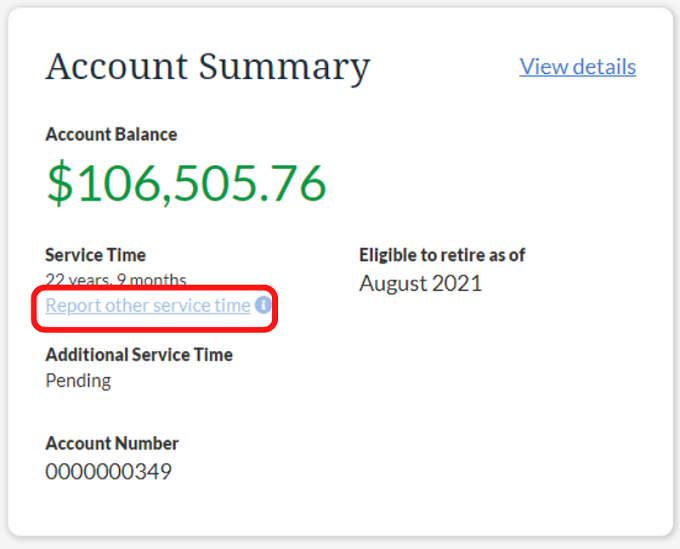 The Proportionate Retirement Program lets you use service time from any of the systems listed below to qualify for retirement benefits (not disability benefits or the Survivor Benefit). Those systems are:
Texas Municipal Retirement System (TMRS)
Employees Retirement System (ERS)
Judicial Retirement System of Texas (JRS)
Teacher Retirement System of Texas (TRS)
City of Austin Employees Retirement System (COAERS)
To update your service time online, click "Report other service time" in your Account Summary, select the system you earned service time from in the dropdown menu and click "Submit". To update your service time over the phone, contact Member Services at 800-823-7782.
You may be able to receive service time for time served in the U.S. Military before you became a TCDRS member and count that service time toward your retirement eligibility. You may use this feature to add military time after you are vested and if you have met the other eligibility requirements.
Access & Upload Secure Documents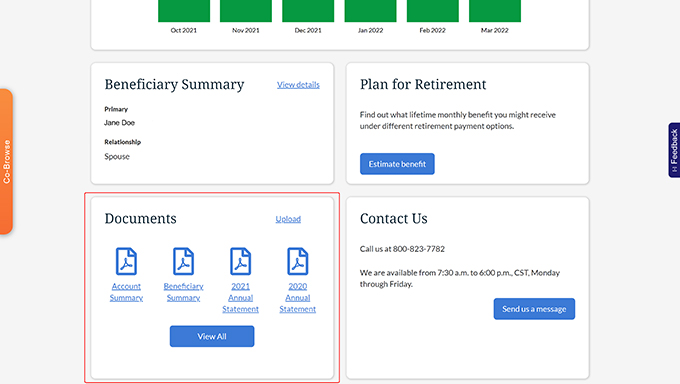 At the bottom of your account dashboard, as well as in the "Documents" hyperlink in your "My Information" box, you can view important account documents TCDRS has sent to you, such as your Annual Statements.

You can also send documents back to TCDRS using the upload tool, such as if you are asked to provide an official document to validate a name change request. This is so much faster and more secure than mailing or faxing in those documents.
Clicking the "View All" button takes you to an area where you can view your most recent account documents.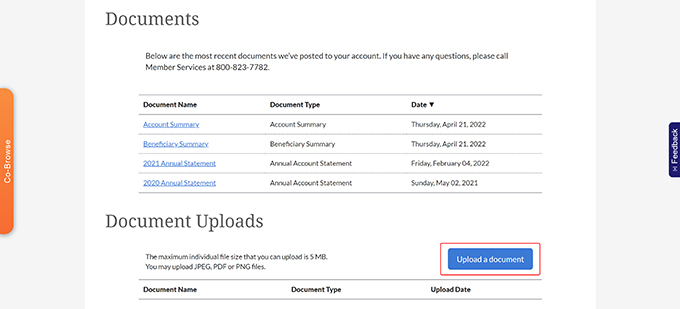 If you need to send a document to TCDRS, you will also find an area to do so on this page. Simply click the "Upload a document" button and follow the steps.


Manage Your Account Security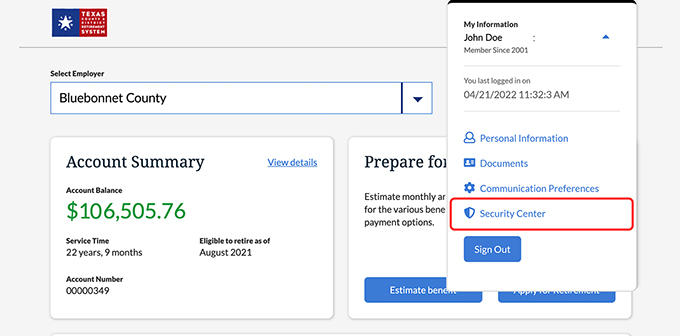 TCDRS recently rolled out a new area of the member portal called the Security Center. Here, you can change your User ID and password, set your two-factor authentication phone number and learn how to best protect your account and report suspicious activity.
To access your Security Center, click the corresponding link in the "My Information" dropdown menu at the top right of your dashboard.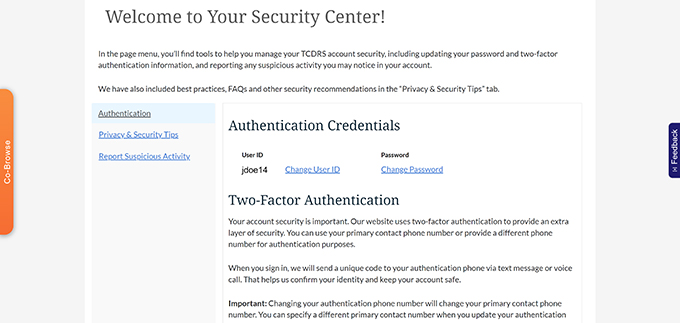 Once inside, you can change your User ID and password, set your two-factor authentication phone number and learn how to protect your account and report suspicious activity.
Estimate Your Possible Future Retirement Benefit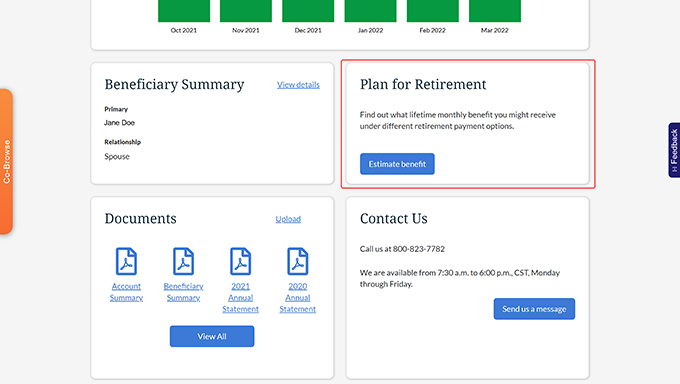 The TCDRS Member Portal also includes a convenient tool for estimating your possible future retirement benefit in a few easy steps. To access this feature, simply scroll down to the middle of your account dashboard, locate the "Plan for Retirement" box and click "Estimate benefit."
Next, follow the steps to input the last day you plan to work, your retirement date (the plan you want to start drawing your benefit) and your beneficiary.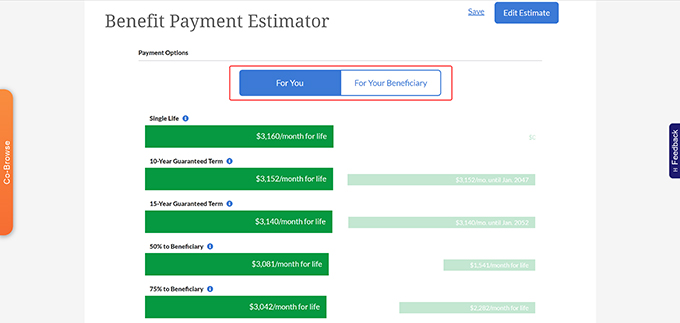 After clicking "Get estimate," you will see all seven payment options side-by-side and be able to toggle between benefit amounts for you and your beneficiary. For a step-by-step walkthrough, see our Benefit Payment Estimator guide.
Apply For Benefits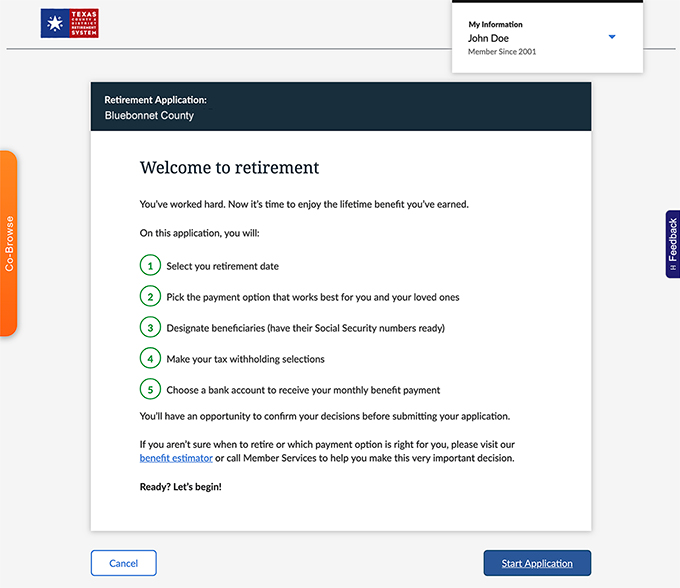 Once you are vested, eligible and feel ready to start receiving your retirement benefit payments, you can submit an online application right from your member portal. Applying online is the fastest and easiest way to start getting your money.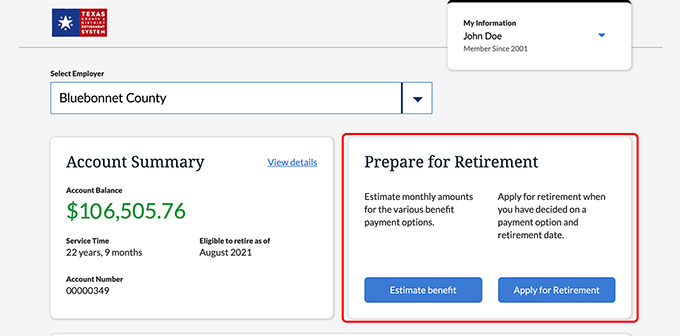 If you are eligible to retire, you will see an online application box at the top of your account dashboard. Click the button to begin your application, and please schedule an online counseling session, call us or refer to our Applying for Retirement FAQs if you need any assistance.
You can submit an online application to withdraw your account balance, too. You will find the "Apply for Withdrawal" link in the footer of your account dashboard.

Just keep in mind that you do not have to withdraw your account just because you're leaving your job. In fact, withdrawing means you're leaving money on the table by forfeiting employer matching and your ability to receive payments for life. Before withdrawing your account, we encourage you to explore our account portability options.
NEW: Get Help Navigating the Website with Co-Browse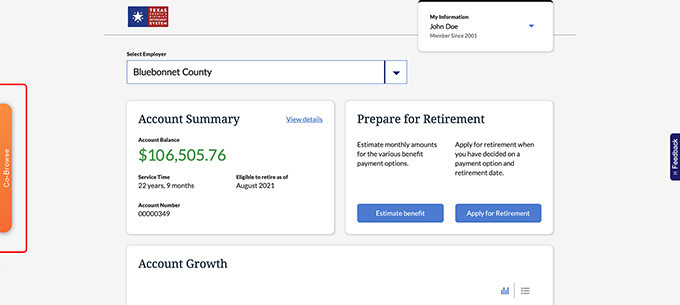 We recently added an exciting new customer service feature to TCDRS.org called Co-Browse. If you are having trouble locating information or using a feature in your online account, simply click the orange banner on the left side of your screen that says "Co-Browse."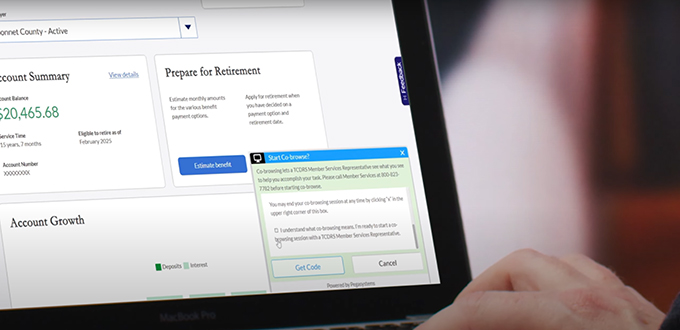 Doing so will connect you to a friendly TCDRS Member Services Representative, who will be able to see exactly what you're seeing on your screen and advise where you should click.
To learn more about how Co-Browse works, watch our video!
Video Library
Rather watch than read? Check out our
informational videos.
Explore Now
Related Content
Get more information on why TCDRS is a model plan when it comes to retirement.