Updating your browser will give you an optimal website experience. Learn more about our supported browsers.
Reality Checks & Financial Checkups
When Oscar Tovar started working for Dallas County at age 21, he was more interested in what he earned than what he saved. Then someone came along and opened his eyes.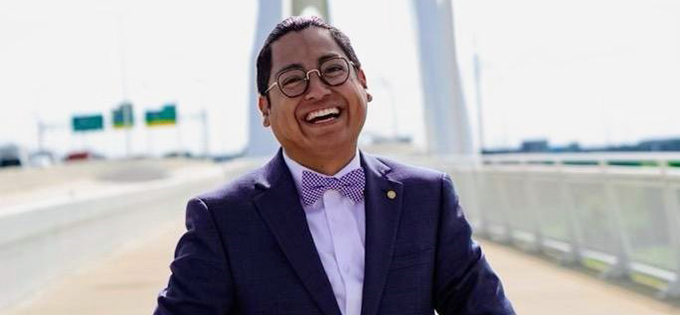 By Leah Golden
When Oscar Tovar first started with Dallas County at age 21, he looked forward to his first paycheck, imagining all the awesome things he would do with it. The paycheck, however, turned into a reality check.
"It wasn't what I expected," he writes via email. "I had been ready to hit the town and eat something other than my Friday night cup-of-noodles. [But] there were so many deductions, and something called taxes! I also saw that there was a significant deduction for retirement. I would have to wait for another check."
Learning to live on a budget served him well a few years later. Even though he had started earning more, he was also paying his way through college. Oscar says it wasn't easy.
"I just had to live a simple lifestyle," he writes.
For a time, Oscar stopped thinking about his TCDRS account. It wasn't until he married his "financially smart" wife that he sensed the importance of his retirement plan. He's grateful for his TCDRS benefits and for Dallas County.
"Now that I have kids, I understand it even more," he writes. "If I were to pass away, I know that my family will be taken care of. That's the point, right?"
In his current job as Contract Manager for Dallas County's Older Adult Service Program (OASP), he works with seniors and gets words of wisdom every time he speaks to them. One of the main messages?
"They all tell me that I should save money for retirement," he writes.
When it comes to his retirement, he found it very helpful to speak with a TCDRS Member Services Field Services Representative about his account. Now, he plans to speak to TCDRS twice a year as part of a financial-health checkup.
"The counseling session really opened my eyes," Oscar writes. "TCDRS can help me achieve my goals by keeping me engaged and reminding me that although I do not have the money now, my future self and family will be taken care of. I have one less thing to worry about."
Video Library
Rather watch than read? Check out our
informational videos.
Explore Now
Related Content
Get more information on why TCDRS is a model plan when it comes to retirement.