Updating your browser will give you an optimal website experience. Learn more about our supported browsers.
A Safer, Faster Toll Road to Travel
Jefferson Brundidge and the North Texas Tollway Authority's Roadway Customer Service help keep traffic moving.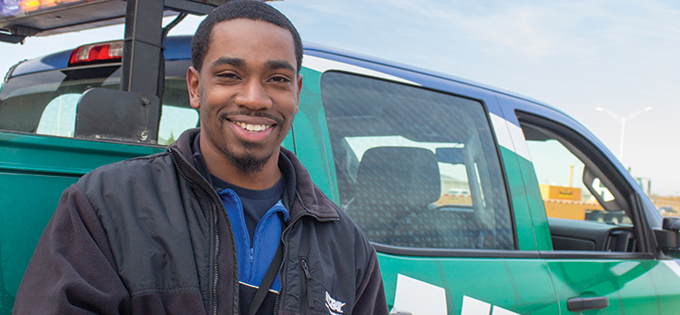 Story and photos by Gerald McLeod, retired TCDRS Communications Manager

A flat tire in the predawn darkness brought a mother's race to the airport to a screeching halt on the shoulder of a North Texas toll road.

It was her son's wedding day and she was rushing to catch a plane at the Dallas/Fort Worth airport with only minutes to spare when she ran over an aluminum ladder that had fallen off a trailer in front of her. Before she could make a phone call for help, yellow lights were flashing in her rearview mirror.

"We arrived on the scene within 5 minutes of her breaking down," says Jefferson Brundidge, a supervisor with the North Texas Tollway Authority's (NTTA) Roadway Customer Service (RCS).

The RCS patrol's goal is to keep traffic on the tollway safely moving. To accomplish this super-hero mission often means changing tires, jumping batteries or giving a stranded motorist a gallon of gasoline. The men in the blue and green trucks also help clean up spills, assist emergency personnel and manage traffic around incidents.

Brundidge says that he once removed a mattress stuck under a car. It was all in a day's work to keep the traffic flowing.

A few weeks after her early morning flat tire, the mother of the groom wrote Brundidge to thank him. It was a beautiful wedding and she never would have seen it without his help. "We're really proud of our RCS personnel," says Susan Slupecki, spokesperson for NTTA. "They do a tremendous job."


The Last Toll Booth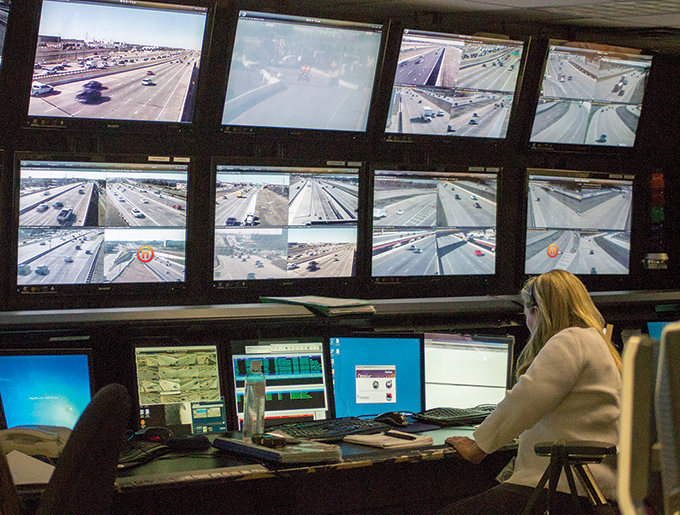 NTTA operates a command center monitoring traffic on the toll roads. The personnel at the center are certified 911 operators and can dispatch help to the scene in minutes.


NTTA traces its roots back to the Dallas-Fort Worth Turnpike (1957), the state's first modern toll road. The authority still operates and maintains the state's oldest toll road, the Dallas North Tollway (1966).

NTTA was also the first in the nation to replace tollbooth operators with electronic toll collection. With the opening of the new extension to the Chisholm Trail Parkway in Tarrant County, the authority operates and maintains 141.2 miles of toll roads, tunnels and bridges in four counties in the Dallas and Fort Worth area.

"Tollways give motorists greater mobility options," Slupecki says. "And they drive economic development." She points to the Dallas tollway corridor as a prime example.

The six named toll roads in NTTA's system translate into more than 950 miles of travel lanes and frontage roads that might not otherwise have been built. The projects were paid for with bonds and are maintained with the 16 cents per mile paid by drivers, not with gas taxes.


NTTA to the Rescue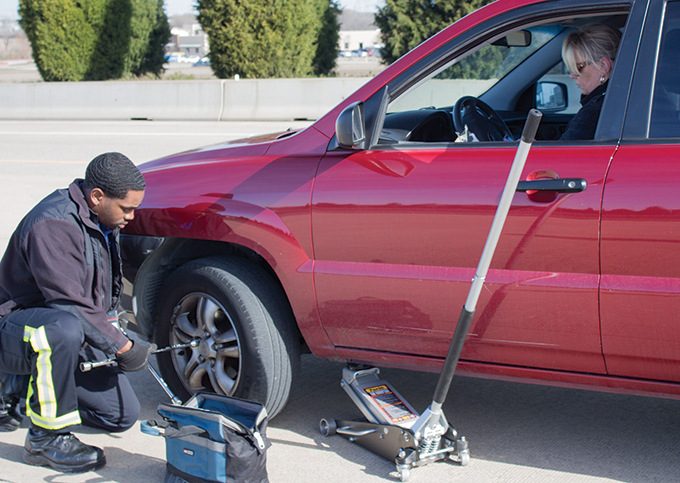 After college, Jefferson Brundidge thought he would be a coach or teacher. Instead, he found his calling training service personnel at the North Texas Tollway Authority's Roadway Customer Service.

In 2008, when the organization went to totally cashless toll collection, it meant the end of the era of tollbooth operators. Most of the tollbooth operators transferred to RCS, says Jim Brett, manager of the office.

The toll roads are patrolled by 52 employees day and night, and even on holidays. On average, the group assists more than 18,000 disabled vehicles in a year with an average response time of just under 12 minutes.

"Our first priority is to keep our roads moving safely and quickly," Brundidge says. With his degree in kinesiology, he thought he would be a coach or teacher. Now he's the lead instructor for the RCS Specialists.

Before moving to the classroom, Brundidge spent two years working in the concrete canyons of the toll roads. "Every time I got back in the truck [after helping someone], I felt good," he says. "It's a great feeling to make someone's day."

The RCS Specialists come from all kinds of backgrounds besides former tollbooth operators, Brett says. Although women have done the job in the past, all of the current crew of RCS Specialists are men.

"I really enjoy working with these guys," says Brett, a retired police officer. "They're motivated when they get to work. They're excited about going out and helping people."

The toll authority puts RCS Specialist recruits through 16 weeks of training to learn everything from controlling traffic to opening a gas cap on an exotic sports car. The one thing that they all have in common is a willingness to help others and to keep the roads safe, Brett says.

For Brett and Brundidge, TCDRS is their retirement security. For Brett, NTTA is a second career and a retirement check that will allow him and his wife to travel in retirement.

At 27 years old, Brundidge has the long view of retirement. "I want to be secure and comfortable in retirement," he says. "I know I've got a great retirement fund behind me and I look forward to using it someday."


No Tipping Required
The RCS Specialists keep traffic moving and motorists safe. Photos courtesy of NTTA.

Oh, and by the way, the mother on the way to her son's wedding was surprised that the tollway authority provided roadside assistance and that Brundidge wouldn't take any money for saving the day.

"When she tried to give me a tip, I told her that she already paid me with her toll payment," Brundidge says.

Story originally published in Spring 2015.
Video Library
Rather watch than read? Check out our
informational videos.
Explore Now
Related Content
Get more information on why TCDRS is a model plan when it comes to retirement.