Updating your browser will give you an optimal website experience. Learn more about our supported browsers.
The TCDRS office will be closed on Monday, May 29 in observance of Memorial Day.
Spring News For TCDRS Plan Decision-Makers
2023 rates, Plan Assessments and the Plan Customizer have arrived to help you consider plan changes for next year. It's also time to consider whether you'll join us for the 2022 TCDRS Annual Conference in July.
Spring is in the air, which means that many of TCDRS' annual processes are either nearing completion or beginning for the year.
If you make decisions about your organization's TCDRS plan, here are a few things to be on the lookout for this spring:
2023 Employer Rates, Plan Asessments & the Plan Customizer

Every year, TCDRS' independent actuaries perform a detailed evaluation of each individual retirement plan to determine employer rates for the following year.
"The goal of the valuation is to make sure you have enough money in your plan to pay for all the benefits your employees earn," says TCDRS Actuarial Services Director Chris Bucknall. "An actuary's job is to estimate the amount of money you need to save for your county's or district's retirement benefits."
You may access your Plan Assessment on your employer portal to see your rate for 2023. Additionally, the Plan Customizer is now available in your employer portal. This powerful tool helps decision-makers model different scenarios and explore the impacts of making benefit changes for the upcoming plan year.
To learn more about these resources and the plan decision-making process, visit our FAQs page.
If you are considering benefit changes or enhancements, please reach out to your TCDRS Employer Services Representative for assistance.
2022 TCDRS Annual Conference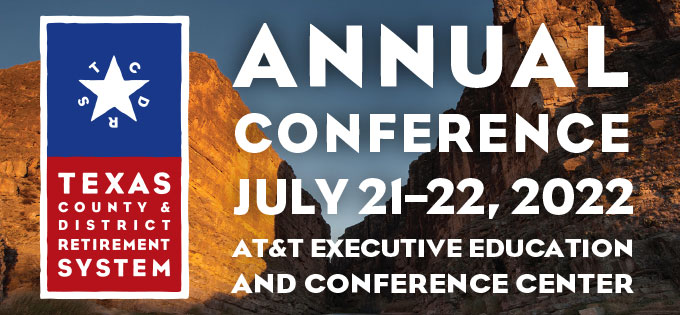 On July 21–22, 2022, we will host our TCDRS Annual Conference in person at the AT&T Executive Education and Conference Center in Austin, Texas.
This event is perfect for county judges, commissioners, treasurers, auditors, chief appraisers, general managers, board members, plan administrators and anyone else who makes decisions about your retirement plan. You may also be able to receive continuing education credits for attending.
Register before June 30 and save $50 off your registration fee! Please visit TCDRSConference.org to sign up.
We look forward to seeing you there!
Video Library
Rather watch than read? Check out our
informational videos.
Explore Now
Related Content
Get more information on why TCDRS is a model plan when it comes to retirement.