Updating your browser will give you an optimal website experience. Learn more about our supported browsers.
Web Registrations Start Conversations for Brazos County
For the Brazos County Human Resources department, getting county employees registered online was just the beginning of a larger conversation.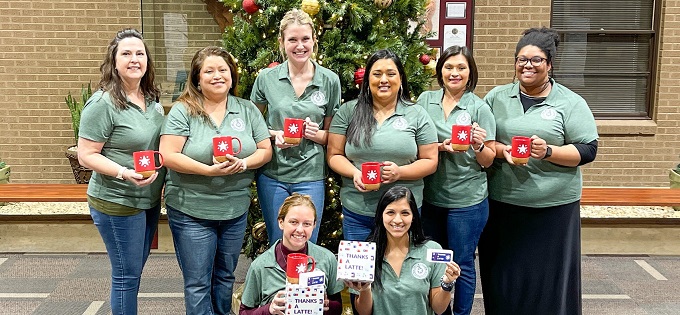 Story by Leah Golden
When Brazos County employees registered for access to their accounts at TCDRS.org, they learned more about their benefits. And the more they learned, the more they wanted to learn.
"A lot of people just didn't know they had money in [TCDRS]," says Paula Doucet, an HR Associate with Brazos County.
Thanks to the efforts of Doucet and the HR staff, the percentage of registered county employees jumped from 56% to 86% in one month. The increase made Brazos County the first-place winner of the October employee registration challenge TCDRS began hosting with employers earlier this year.
The department took a 2-for-1 approach to web registration by catching employees who had not registered whenever they contacted HR. Doucet has found that face-to-face interaction and phone conversations were the most effective strategies for increasing registrations.
"These things seem to get done when you have a conversation and can explain things," Doucet says.
Using multiple avenues of communication and keeping customer service as your key goal is the advice Jennifer Salazar, HR Director for Brazos County, has for other employers trying to increase TCDRS web registration. Salazar writes via email: "We used a county-wide email, individual emails, departmental meetings, texts messages, walk-ins and phone calls."
To support the HR department's efforts, Doucet sent the non-registered online accounts report TCDRS provides employers to all HR staff. If an employee walked or called in to their offices, staff could check the list. If the employee was on it, they would help them get registered.
Seeing the registration process firsthand was also a big help. According to Doucet, a few of their newer HR staff members had not registered on the website themselves. So, everyone observed the process start to finish.
"By the time they were done, it was like 'OK, that's super simple," Doucet says.
Doucet noticed that registering online made it easier for employees to run estimates for different retirement dates and decide whether they were on track for retirement or if they needed to save more.
"[TCDRS is] a great retention tool, now that they're aware of the amazing benefit!" Salazar adds.
Employee Web Registration Tips

Employees can find their account number in the welcome mailer we send them during their first weeks on the job or in their TCDRS Annual Statement. They can also call TCDRS Member Services at 800-823-7782.

You can find an employee's TCDRS account number by signing into the Employer Portal at TCDRS.org and using the "Employee Lookup" tool.

For security reasons, make sure each employee registers on their own personal computer, smartphone or tablet.

For more information, visit TCDRS.org/OwnIt.
Photo courtesy of Jennifer Salazar, Brazos County Human Resources Director
Video Library
Rather watch than read? Check out our
informational videos.
Explore Now
Related Content
Get more information on why TCDRS is a model plan when it comes to retirement.