Updating your browser will give you an optimal website experience. Learn more about our supported browsers.
When Retirement Doesn't Go According to Plan
Grayson County retiree Patricia Lowell shares how her TCDRS benefit helped when her family needed her most.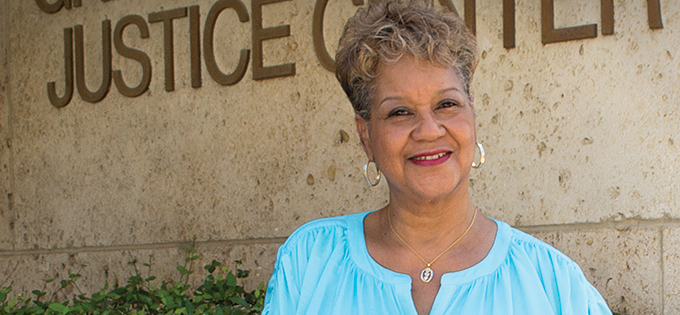 Story and photos by Kelly E. Lindner

Patricia Lowell enjoyed her job of 23 years as a probation officer for Grayson County. She enjoyed going to work every day, she was fond of her co-workers (whom she describes as "like family") and she liked helping her probationers.

"I enjoyed being able to encourage them to change certain habits, and do what they could to complete probation successfully — to be a success," Patricia says. "I enjoyed working with people. I'm a people person."

In fact, Patricia had no plans to retire for another seven or so years. "Or at least until age 62 so I could collect Social Security," she says.


Life Steps In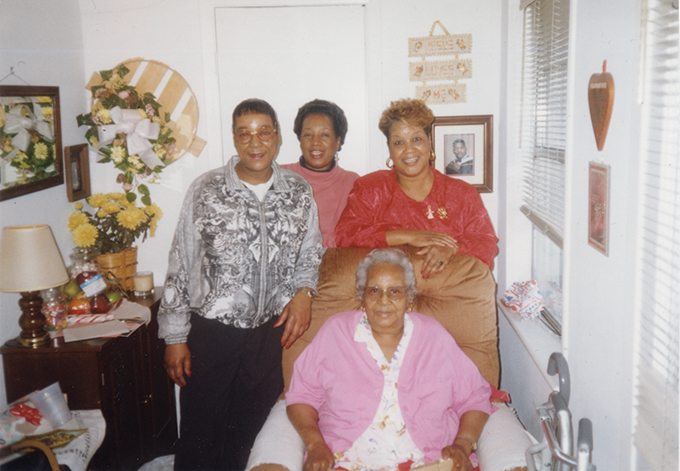 Sisters Elaine, Jophelia and Patricia with their mother, Julia. Photo courtesy of Patricia Lowell


But life, as it often does, had other plans. In 2004, Lowell found herself having to retire at age 58 so she could care for her mother, Julia Alberty, who was facing many health struggles with cancer, congestive heart failure and diabetes.

"I was using up a lot of comp time and vacation to take care of her," Patricia says. "I had to do something."

So Patricia decided to retire early, but she didn't do it right away. She told her employer that she would retire within a few months and took the time she needed to pay off her car and as many bills as possible. She also took note of her estimated benefit when she received her TCDRS Annual Statement.

"It was livable," Patricia says of her estimate. "I've never lived extravagantly or anything and I don't bite off more than I can chew."

So her TCDRS retirement benefit ended up being her sole means of support at that time. "I don't know what I would've done without it," she says. "It's a good thing that our retirement system is so solid and doesn't run out. This is just one of the greatest retirement systems."

Though Patricia had planned on working part-time in retirement to gain extra income, that was not possible because of her intense caregiving schedule.

"I took care of my mother like I was going to a full-time job," she says. "I showed up every morning and did not leave until I put her to bed at night."

Patricia remained devoted to this cause and this schedule from 2004 until her mother's passing in 2010 at the age of 92.

But going back to work even part-time was not a possibility for her in 2010, either. The health of her younger sister, Jophelia, began to fail due to early onset of Alzheimer's disease. She became her sister's caregiver until she passed away in 2012 at the age of 64.

Patricia's younger sister, Elaine, also relied on Patricia when she became ill from throat cancer. She cared for Elaine until she passed away in 2013, also at age 64.


A Family Continues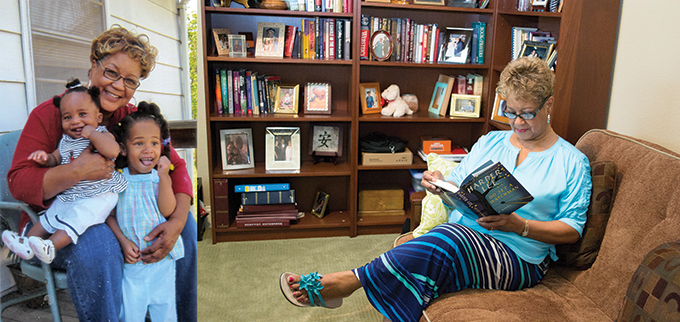 Left: Patricia with two of her three grandchildren (photo courtesy of Patricia Lowell). Right: Patricia relaxes with a good book.


Today, Patricia greatly misses her mother and her sisters. "My mom was the love of my life," she says, "and my sisters were my best friends. I wish they were all still with me, but I am glad I was able to be there for them when they needed me."

But Patricia was able to extend her family in 2009 when she married Buddy Lowell. She and Buddy had met several times since their mothers were friends and Buddy was caring for his mother during the same time Patricia was caring for hers.

"And then one day we basically just said, 'Okay. Let's do this,'" she says with a laugh.

Today Patricia and Buddy live comfortably on their combined retirement and Social Security. In fact, in 2014, the story of a couple doing just fine on their retirement plus Social Security without having to supplement income with a part-time job caught the attention of The New York Times. (See "The Gray Jobs Enigma.")

Patricia doesn't currently have plans to return to work and instead enjoys spending her time reading, sewing, being active at her church (especially choir), visiting her son Timothy (and three grandchildren) in Harris County, and taking trips with Buddy. The couple's next trip will take them to Las Vegas for her birthday.

Patricia says if she could impart any advice to members nearing retirement, it would be: "Plan for the unexpected. You never know what's going to happen."

Story originally published in Summer 2015.

Video Library
Rather watch than read? Check out our
informational videos.
Explore Now
Related Content
Get more information on why TCDRS is a model plan when it comes to retirement.